GENETIC VARIATION OF E. oleifera POPULATION AND POPULATION E. guineensis x E. oleifera ON NUTFAH PLASMA COLLECTION PPKS
Rokhana Faizah

Indonesian Oil Palm Research Institute

Sri Wening

Indonesian Oil Palm Research Institute

Hernawan Yuli Rahmadi

Indonesian Oil Palm Research Institute

Abdul Razak Purba

Indonesian Oil Palm Research Institute
Keywords:
Genetic relationship, genetic variation, Elaeis, interspecific hybrid, SSR
Abstract
The oil palm species of Elaeis oleifera have some superior characters not possessed by E. guineensis species. The cross between E. oleifera x E. guineensis (E. o x E. g.) Is carried out to insert the superior character of E. oleifera into the E. guineensis species and to obtain individuals who possess a superior characteristic blend of both species. This study aims to determine the genetic diversity within and between populations of E. oleifera, as well as relationships between E. oleifera, E. guineensis and its interspecific hybrids. A total of 8 germplasm populations used were E. oleifera originating from Suriname and Brazil, E. guineensis population of Dura Deli and SP540T, and interspecific crosses of hybrid E. guineensis x E. oleifera from Colombia, hybrid E. guineensis x E. oleifera which is presumably from Colombia, as well as hybrid E. guineensis x E. oleifera from Brazil. A total of sixteen Simple Sequence Repeat (SSR) markers were used to analyze 92 individuals from 8 populations. PCoA results show that 8 Elaeis populations cluster in each group. The hybrid population of E. guineensis x E. oleifera suspected of Colombia has a very close kinship relationship with hybrid E. guineensis x E. oleifera from Colombia and clumped in the same quadrant. This suggests that the hybrid is indeed a hybrid of E. guineensis x E. oleifera from Colombia. The population of E. oleifera from Suriname showed the lowest genetic diversity, with the number of different alleles, specific alleles, heterozygosity values, and the percentages of polymorphic loci sequentially were 1.37, 0.18, 0.09, and 37.50%. While the population of interspecific interspecific crossbreeds of the E. oleifera species showed the highest genetic diversity with values ​​of 3.81, 0.43, 0.62 and 100%.
Downloads
Download data is not yet available.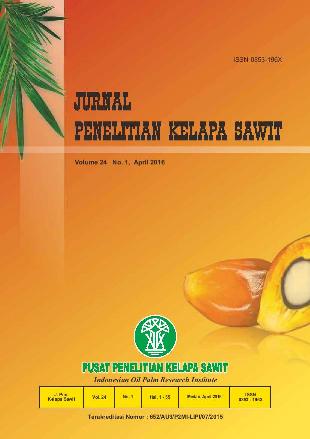 Copyright (c) 2016 Jurnal Penelitian Kelapa Sawit
This work is licensed under a Creative Commons Attribution-ShareAlike 4.0 International License.
Indonesian Journal of Oil Palm Research can be accessed freely by anyone (open access) to introduce more journals to the public

.

The results of the research can be used freely with the inclusion of Indonesian Journal of Oil Palm Research as a source of utilization

.