ROOT DISTRIBUTION OF OIL PALM AND SOIL PHYSICAL PROPERTIES IN DIFFERENT PLANTING HOLE AND EMPTY FRUIT BUNCHES APPLICATION
Iput Pradiko

Indonesian Oil Palm Research Institute (IOPRI)

Fandi Hidayat

Indonesian Oil Palm Research Institute (IOPRI)

Nuzul Hijri Darlan

Indonesian Oil Palm Research Institute (IOPRI)

Heri Santoso

Indonesian Oil Palm Research Institute (IOPRI)

Winarna Winarna

Indonesian Oil Palm Research Institute (IOPRI)

Suroso Rahutomo

Indonesian Oil Palm Research Institute (IOPRI)

Edy Sigit Sutarta

Indonesian Oil Palm Research Institute (IOPRI)
Keywords:
oil palm, root distribution, soil physical properties, planting hole
Abstract
This study was conducted to determine the root distribution and to analyze soil physical factors that affect roots development in different size of planting hole; standard (0.6 m x 0.6 m x 0.6 m), medium ((1 x 1 cm x 0.6 m) with 400 kg empty fruit bunches (EFB)/hole and 740 g urea/hole, and big (2.8 mx 2.8 mx 1 m) with 400 kg EFB/hole and 740 gr urea/hole. This study employed demonstration plot that used a non factorialrandomized block design (RBD) with three treatments (standard, medium, and big hole) and three replications. The results showed that total distribution of oil palm roots in standard, medium, and big planting 3 3 hole are respectively 28.60 g /dm ; 26.69 g/dm ; and 3 24.47 g/dm . Types of planting hole did not significantly affect primary root, but significantly affected secondary and tertiary root distribution. In big planting hole, oil palm has highest secondary and tertiary roots distribution than the others (up to 70%). Increasing of
permeability, porosity, and decreasing of soil bulk density tends to increase root distribution, especially tertiary. Meanwhile, increase on soil water content is not followed by secondary and tertiary distribution, since booth root types more distributed in the upper soil layer. Better soil tillage; through big planting hole, can improve soil properties and optimizing development of secondary and tertiary roots.
Downloads
Download data is not yet available.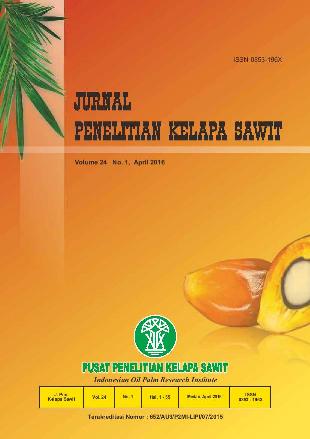 Indonesian Journal of Oil Palm Research can be accessed freely by anyone (open access) to introduce more journals to the public

.

The results of the research can be used freely with the inclusion of Indonesian Journal of Oil Palm Research as a source of utilization

.